People Strategy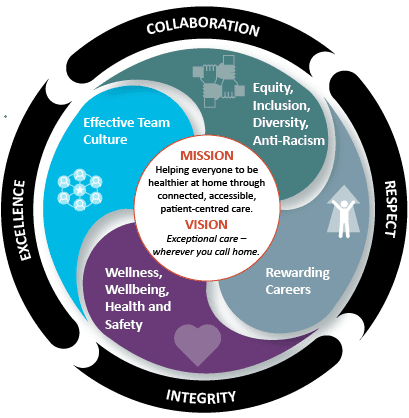 Grounded in our Mission, Vision and Values, and guided by our strategic priority to invest in our people, the People Strategy is our road map, shaping the way we lead, engage and develop our people to enhance the organization.
Guided by our organizational values of collaboration, respect, integrity and excellence, we are helping each of our exceptional employees unlock their full potential by focusing on four pillars.
Equity, Inclusion, Diversity and Anti-racism
We are committed to a culture of equity, inclusion, diversity and anti-racism. We will work collaboratively to eliminate systemic barriers to under-represented and racialized groups, and work towards a workforce that reflects the diverse communities we serve, with the goal of optimizing patient and family outcomes
Wellness, Wellbeing, Health and Safety
We believe the key to delivering an exceptional patient and family experience is through the creation of a healthy workforce and an exceptional employee experience. Creating a work environment that promotes wellness and that is safe, positive and healthy will empower us to be our best selves, do our best work and deliver the best possible patient experience.
Effective Team Culture
High performing teams produce great results, and developing a culture where everyone is empowered to share their expertise and make decisions will help us achieve our goals. With the right resources in place, we can empower our teams to be more creative and focus on doing important work with the greatest impact.
Rewarding Careers
As the health care system continues to evolve at a rapid pace, we need to be ready to meet the needs of patients now and in the future. Being an employer of choice that attracts, develops and retains top talent will enable us to be agile, innovative and responsive to the health care needs of the communities we serve. Recognizing, celebrating and encouraging the diverse talents of our people at all levels will help us reach our full potential, ensuring we achieve our shared goals and continue to succeed in the evolving health landscape, as colleagues to our health system partners and service provider organizations.
Join us
If you're interested in driving excellence in care and service delivery, and seeking an unparalleled opportunity to lead and learn, partner and connect, care and be cared for, this is your home.